फूल र्नि‍जलि‍कारण: पुष्प कृषि में एक नया प्रतिमान 
Flowers are an integral part of Indian culture. Flowers are being used for offering and decorative purposes all over the country since ancient times. Dried flowers are the everlasting flowers which are made from the suitable plant materials by drying.
Dried flowers are the important products of present day floriculture due to their long lasting quality, year round availability, easy handling, low transportation cost, eco-friendly and suitable for subsequent flower products Potpourri, a segment of dried flower is used to give fragrances. Dried flowers occupy a major chunk of the total floriculture.
India is the fifth largest exported of dried flowers and the industry exports 500 varieties of flowers from India to 20 countries and is highly in demand in USA and UK markets. India is one of the major exporters of dried flowers to the tune of 5% world trade in dry flowers. This industry shows a growth rate of 15% annually. Potpourris are a major segment of dry flower industry valued at Rs. 55 crore in India alone.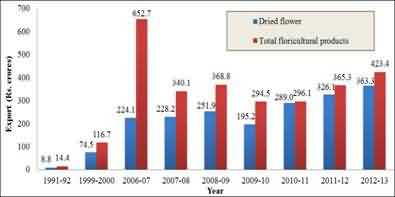 Fig : Export of dried flowers and total floricultural products from 1991-2013 (Source: UNCOMTRADE, APEDA)
History of dried flowers
Dried flower production has been considered as an art for hundreds of years. Fragrant dried flowers and herb garlands were encased with mummified bodies in Egyptian pyramids. Japanese created Oshibana, the "preserved flower art" of enduring designs to retain the exquisite beauty of the living plants centuries ago. This craft making has later spread from Japanese to Victorian England because of their beautiful long lasting appearance.
Victorian ladies considered floral garlands to be an essential fashion accessory. During the Middle Ages, monks dried flowers, foliage, and herbs for use in decorative motifs or for making dyes to color their hand-printed books. Dried flower arrangements have been popular in Europe for centuries, and as early as 1700 AD, colonial Americans used dried flowers to brighten their homes, especially during the dark winter months. Restored Williamsburg presents numerous examples of these designs.
With the development of some new preservation techniques, dried materials no longer have to appear withered and somber gray or brown. Plant materials available commercially, as well as those preserved with modern methods, are almost unbelievably fresh-looking and represent a wide range of colors.
Pot pourri :
Pot pourries can be defined as the mixture / combination of dried flowers, petals and other plant materials with spices or other fragrance materials and it is used to scent the air. it consists of an attractive mixture of dried plant materials of assorted shapes, size, texture and color which makes it as a decorative item as well.
More than 300 types of various plant materials are used for the production of potpourri. The material used for potpourri should have either a strong natural color or light enough to absorb non-toxic dyes.
Table : 1 Commonly used potpourri materials
Plant material

Description

Image

Arjun tree pods

(Terminalia arjuna)

One of the main plant materials used in pot pourries. The pods are  2.5 to 5 cm fibrous woody fruit, divided into five wings.

 

Luffa sponge gourd

(Luffa aegyptiaca Mill.)

When the gourds dry, the sponge from inside is removed by soaking the gourds in water. Both inside sponge and the outer cover are used in pot pourries and dried flower arrangements.

 

Dried Bael fruit

(Aegle marmelos)

The dried fruits, after removing the pulp is used as dried flower decoration and the ripe fruits are cut in dried and used in pot pourries for their sweet pleasant flavor.

 

Shola

(Aeschynomene aspera)

The pith is very light, spotlessly white, extremely flexible and long lasting with excellent insulating property. These qualities of 'Shola' pith have been thoroughly exploited and have been used to make fishing floats, sun hats, toys and other handicrafts.

 

Pine cones and casuarina pods

Pine cones of trees like cedar, chir pine, birch tree from the hilly regions and they are dried, varnished and used as decorative and potpourri fillers. Seeds from pine cones should be removed to prevent shedding.

 

Lotus pods

(Nelumbo nucifera)

Lotus pods are one of the largest exported dried flower products from India. The buds are used as cut flowers for making floral arrangements and the dried torus is used in floral decorations.

 
Apart from these, some commonly used plant materials for pot pourries and dried flower decorations are lily pods, cotton pods, coconut palm cap, palm cap, palm fruit, corn cobs, okra pods, stones from peaches and apricots.
Decorative arrangements:
The dried flowers and foliage are used to make greeting cards, paper weight, candles, handmade paper, wall hangings, lampshades and other flower arrangements. At present plant materials with distinct shapes are used for this purpose. Any interesting and decorative cones, nuts, gourds, seed pods, flowers, foliage, fruits, and even small, graceful tree branches can be modified into dried flower.
There are two general categories of dried materials, those collected in an already dry condition and those picked fresh and in need of artificial drying. For making dried flower arrangement, the material should have the natural stalk of 15-40cm. if the stalks are not of an acceptable length or quality, the product have wire stalks attached with hot glue. Dried flower arrangements are classified as (i) Main blooms (ii) Liners and (iii) Exotics.
As the name implies, Main blooms are play a key role in arrangements because of their shape, size and/or color. Most commonly used plant species as Main blooms are, Statics, Straw flower, Acroclinium, Nigella, Larkspur, Stock, Rose, etc.,
Fillers, as in the case of fresh flower arrangements, are a group of products used in making bouquets and arrangements and their main function is to add bulk to the arrangement.
Liners are mostly ornamental grasses as they give a linear accent to an arrangement. Most commonly used grasses are animated oats, canary grass, timothy and ornamental wheat. In addition, maize, sorghum, spiked millet; spike of silver dollar eucalyptus and spikes and twigs of trees and shrubs can be used.
Exotics includes the plant materials which are modified or hand crafted and made into specific shapes and naturally having unique shape such as , lotus pods, pine cone, palm spears, balls made from grape vein and shola flower etc.
For dried flower production, like other harvesting, plant material shall be harvested when it will yield the highest possible quality product. Stage of harvest is very much important while making dried flowers.
Stage of harvest of flowers for drying 
Plants

Description

Picture

Statice

(Limonium latifolium,

Limonim sinuatum ,

Goniolimon tataricum)

The individual flowers are minute, borne in billow sprays on branching wiry stems.

The flower structure comprises an outer calyx and an inner corolla, often in different colors. Purple, yellow, white, pink are the common colors.

 

Straw flower

(Xerochrysum bracteatu)

Flower heads are of 3-7cm size, in yellow, pink, white and orange red colors. It comprises of a central disc which contains a number of florets. The discs are surrounded by petal-like, stiff, papery bracts.

 

Bells of Ireland

(Molucella laevis)

The tiny white flowers on spike which are surrounded by apple green calyces which are persistent.

 

Globe Amaranth

(Gomphrena globosa)

Persistent, 3 to 5 cm long, clover-like blossoms on upright spikes. Individual flowers are inconspicuous, but the stiff, papery bract forms the bulk of the flowering structure in shades of pink, purple and white.

 

Celosia species

they are plumes, crests, or spikes; most commonly in  red, yellow, cream, orange, rose, deep magenta, and pink colors.

 

Lagurus

(Lagurus ovatus)

Slender upright flowering stems are topped with an egg-shaped or slightly elongated seed-head (1-6 cm long and 1-2 cm wide). These whitish seed -heads are feathery in appearance and usually persist for several months after flowering.

 

Bromus

(Bromus tectorum )

The large openly branched seed -heads have a nodding appearance. These seed-heads are made up of numerous large (1.5-4 cm long and 4-10 mm wide) flattened flower spikelets. these flower spikelets are made up of 6-12 relatively large florets (12-20 mm long)

 
Methods of dehydration of flowers
1. Air Drying :
Plant materials intended for dried flowers can be dried under natural drying, where the plant material is bunched together, tied inverted in a dark room. The room shall be well ventilated. This method requires very less inputs but takes long drying time. To reduce the drying time and to improve the quality of dried flowers, plant materials can be dried under tray dried or solar tray drier.
2. Embedded drying :
Flowers are very delicate in nature and tend to lose its shape upon drying. To avoid deformation in their shape the flowers are embedded in a desiccant or a non-reactive granular substance such as sand, corn meal etc. most commonly used desiccants are silica gel and borax. This desiccant can be mixed with sand or corn meal in appropriate ratios to reduce the cost of drying. Plant material embedded with sand or other non-reactive material shall be kept under sun or hot air for drying.
3. Microwave drying:
 Embedded flowers can be dried under microwave energy also. The plant material is embedded and then kept under the conventional microwave oven for 2-5 min for drying. The drying time depends on the thickness of the plant material being dried. This method produces dried flowers of very god sensory quality with short time.
4. Pressing:
 A plant press is used to press the plant material in-between two absorbent materials like paper until it is dried. The pressed flowers are used to make 2D decorative items like greeting cards and wall hangings.
5. Wet drying:
 In this method humectant liquid like glycerol is used to replace the moisture in the plant material. The end product of this drying is pliable and has the natural texture.
Other value added processes
The dried material can be further bleached, skeletonized and dyed to get the desired finish. Some plant materials tend to lose their color during drying and some will discolor. When the discoloration of plant material is not aesthetic or not preferred, the plant material is bleached.
Bleaching is also done to remove the existing color and to give desired color to the dried plant material. Bleaching also aids in uniform coloring of plant material during dyeing process.  After drying and bleaching process the natural color of the plant material is lost or faded.
Sometimes the dried materials are colored to add more intense color. Skeletonized leaves lend an interesting, lacy appearance to dried arrangements. Heavy textured leaves, such as magnolia, ficus are the best choices for this method of preservation.
Packaging and storage of Dried flowers:
Dried flowers are delicate in nature and hence should be protected from all possible damages like physical damages and insect damages. Proper cushioning shall be provided while storing the dried flower products. Some dried flower tends to lose/fade its colour upon exposure to sunlight. Hence proper care must be taken to prevent exposure to direct sunlight. Application of fungicide, insecticides or sulfur fumigation can be done prior to packaging to control microbial and insect damages. Polyethylene bags as primary package is widely used and the retail packs are stacked inside corrugated carton boxes for further transportation and storage.
Marketing:
Easy availability of products from forests, possibility of manpower available for labour intensive craft making and availability of wide range of products throughout the year are the reasons for development of dry flower industry in India. The trend for dried flower is ever increasing and dried flowers and potpourris are sold in the rate of minimum Rs 250. The input required in terms of money is very much less when compared to the fresh flowers. Since rural and tribal India is rich in floral resources, they collect the raw material for dried flower production without any drudgery They can make artistic dried flower arrangements and other dried flower products without much input. 
---
Authors:
Sellam Perinban*, Jayoti Majumder, Babita Singh, Puja Rai and Ramesh Kumar
Directorate of floricultural Research, Pusa Campus, New Delhi – 110012
* mail id: This email address is being protected from spambots. You need JavaScript enabled to view it.