भारत में गेहूं के गुणवत्ता मानक।
India is the second largest producer of wheat in the world with a production of 92.46 MT in the year 2012-13 . Wheat is the staple food and is one of the main source of calories and protein to most of the Indian population. Three species of wheat namely, T. aestivum (bread wheat), T. durum and T. dicoccum are cultivated in the country
The grain structure of these three different wheat types is different and therefore different types of food products are prepared from these wheat types (Table 1). The quality requirement of wheat for different products like chapatti, bread, biscuit and pasta are are also different (Table 2). Quality analysis of wheat is required not only for the selection of product specific varieties, but also to meet the trade requirements of both the domestic and international markets.
The demand for the traditional and new convenient processed wheat products is continuously increasing, particularly in economically emerging countries. The growing demands for convenience foods such as ready- to- eat, frozen, microwaveable and instant products has promoted the increase in mechanized food production in larger commercial plants and the increase in wheat products sold in the supermarkets.
Industrial food processing requires wheat quality attributes that often cannot be met by wheat for traditional foods. Therefore, improving the quality of new wheat cultivars to satisfy the demands of the industry is now in many developing countries one of the main priorities of wheat breeding programmes.
The ability to supply wheat that meets local demand for specific end-use quality requirements will thus become more and more crucial. Also, with the surplus production of wheat, India is exporting it to many countries. To compete in the international market, India has to maintain the quality of its wheat produce.
At DWR, Karnal, every year, under the All India Coordinated Wheat and Barley Improvement Programme, the wheat entries from all the wheat growing zones of the country are analysed for their quality parameters and product specificity. Out of these, many have been found promising for different wheat products (Table 3). Wheat varieties have also been identified for individual quality parameters.
Under one study at DWR, thousands of wheat samples collected from main mandis of thirteen major wheat growing states were analyzed for different grading & non-grading parameters, flour characteristics, HMW-GS, rheological properties and baking evaluation of chapatti, bread & biscuit.
Based on this study, atlas has been prepared for all the quality parameters, product specific varieties & areas have been identified and classes and grades of Indian wheat have been proposed. The average protein content is relatively low in the northern parts of the country (10-11.5%), but it improves in the central and peninsular regions (12-13%). The average flour extraction rate is highest in Madhya Pradesh (70.7%).
The baking evaluation indicates that the upper part of the country comprising of Himachal Pradesh and Uttrakhand is better for biscuit quality. Middle part of the country mainly MP, Rajasthan, Gujarat is good for chapatti quality. Likewise, the peninsular region comprising Maharashtra and Karnataka is comparatively better for the bread loaf volume (Table 4).      
The Indian bread and durum wheat possess wide variability in the levels of Iron (25-55 ppm) and Zinc (20-50 ppm). There is further need to enhance the bioavailable concentrations of these elements in wheat. Wheat is also a good source of a number of phytochemicals, which are beneficial to health and contribute to the antioxidant capacity of wheat.
These include carotenoids, phenolics, lignins, vitamins, minerals and phytates. These antioxidants can provide additional health benefits and can help in controlling the aging related diseases like heart diseases, cancer, diabetes and other degenerative diseases. Out of different grain fractions, bran has the highest antioxidant activity followed by whole meal and flour. Therefore, for better health benefits, the food products based on whole grains are recommended.
In the year 2012-13, around 6000 wheat samples from FCI were analysed for their quality parameters at DWR, Karnal. Based on this analysis, India could export around 4.5 MT wheat to other countries.
Table 1: Traditional baked and pasta products from different wheat species.
| | |
| --- | --- |
| Wheat Species | Products |
| Bread | Chapati and its variants, bread, biscuit, naan, kulcha, bhatura, puri, pizza, kachori, samosa, matthi, namakpara, papad, balusai, ghewar, sattu, noodles, laddu, pav, buns, cake, pastry etc. |
| Durum | Chapatti, parantha, dhebra, bhakhri, porridge, rava idli, rava puttu, khichdi and pasta products like macaroni, spaghetti and vermicelli. |
| Dicoccum | Culadi ke laddu, godi huggi, sweet pan cake, madel and pasta products. |
 Table 2: Quality parameters for different wheat products.
Wheat Product

Grain Texture

Protein (%)

Gluten Strength

Bread Wheat

Chapati

Hard

Medium to high

(10-13)

Medium and extensible

Bread

Hard

High

(> 13)

Strong and extensible

Biscuit/Cake

Soft

Low

(8-10)

Weak and extensible

Durum Wheat

Pasta

Very hard

High

(> 13)

Strong
 Table 3: Promising wheat varieties for different products.
Product

Promising varieties

Chapati

(>8.0/10.0)

NWPZ : C306, Raj3765, HD2285, PBW226, PBW175, PBW373

NEPZ : C306, K8027, K9107, MACS6145, UP262, NW1014, HUW234, HUW533, HD2888, K0307, HI1563

CZ : Lok1, C306, Sujata, HI1500, HW2004, DL-788-2, GW173, GW273, GW322, Raj3077, HI1531, HD2864, MP3336

PZ : Lok1, HD2833, GW496, HD2987, NIAW1415

Bread

(> 575ml loaf volume)

NHZ : HS240, VL738

NWPZ : HD2285, PBW396, WH1021

NEPZ : HD277, HD2733, NW2036, DBW14, DL 788-2

CZ : Lok1, GW120, GW173, GW190, GW496, HD2864, HD2932, MP1203

PZ : HI977, HD2189, HD2501, HD2781, DWR162, DWR195, MACS2496, Lok1, NI5439, NIAW34, NIAW917, Raj4083, HD2932, PBW596, MACS6222, NIAW1415

Biscuit

(>8.0 spread factor)

NHZ : Sonalika, HS 490

NWPZ : UP2425

Pasta

(>6.5/9.0)

NWPZ : PDW233, WH896, PBW34, PDW291, PDW314, WHD943

CZ : HI8498, HD4672, Raj1555, A-9-30-1, HI8627, HI8713

PZ : MACS2846, DDK1009, NP200, HI8663
NWPZ : North Western Plains Zone; NEPZ : North Eastern Plains Zone; CZ : Central Zone; PZ : Peninsular Zone; NHZ : Northern Hills Zone
Tables 4: Quality standards of Indian wheat. 
Quality Parameter

Agro-climatic zone

 

NHZ

NWPZ

NEPZ

CZ

PZ

Country Average

Protein (%)

10.04

11.19

11.13

11.62

12.56

11.3

Moisture (%)

11.71

10.65

10.89

9.90

11.03

10.9

Test Weight

79.50

78.70

79.00

81.40

80.50

79.82

Sedimentation value (cc)

34

40

45

43

41

40.6

Hardness

5.1

5.4

5.5

5.6

6.7

5.66

Extraction rate (%)

68.2

69.4

70.4

69.8

69.6

69.48

Total defects (%)

7.14

8.56

9.62

6.57

6.53

7.68

Chapati quality (Max. score 10)

6.63

6.52

6.87

7.11

6.48

6.72

Bread loaf volume (cc)

510

529

565

507

568

536

Bread quality (Max. score 10)

6.58

7.00

7.87

6.41

8.13

7.2

Biscuit spread factor

8.00

6.75

6.45

6.50

6.11

6.76
NWPZ : North Western Plains Zone; NEPZ : North Eastern Plains Zone; CZ : Central Zone; PZ : Peninsular Zone; NHZ : Northern Hills Zone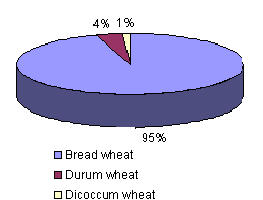 Figure 1: Proportion of different wheat types grown in India
---
Authors:
Sneh Narwal, Sunita Jaswal, Sonia Sheoran and R.K Gupta
Directorate of Wheat Research, Karnal – 132001. Haryana. India