"The system of rice intensification (SRI)" is a method of rice cultivation that involves efficient utilization of natural resources in conjunction with judicious use of external inputs to produce optimum rice yield.  Although SRI is best explained operationally in terms of making certain changes in conventional rice-growing practices, it is not best defined in terms of practices.
SRI is a strategy of irrigated rice production, adapted to local conditions, that alters plant, soil, water and nutrient management practices with the purpose of
(a) inducing larger and better-functioning root systems, and
(b) more abundant, diverse and active communities of soil biota that live in association with the root systems.These organisms include both flora and fauna.
SRI cultivation is a system rather than a technology. It is based on the insights that rice has the potential to produce more tillers and grains than now observed and that early transplanting and optimal growth conditions spacing, humidity, biological active and healthy soil and aerobic soil conditions during vegetative growth can fulfill this potential.
Presently sizeable farmers are practicing SRI in Tamil Nadu, Andhra Pradesh, West Bengal & Punjab, Orissa and has been also initiated in Gujarat, Uttar Pradesh, Maharashtra, Jammu and Kashmir,  Bihar,  Madhya Pradesh etc.
Basic principles of SRI
Take very young age seedlings (12-14days old or 16 days old in temperate)

Well drained, raised nursery bed

Only single seedling per hill
Check - row planting (Wider spacing)
Maintaining aerated soil conditions throughout the vegetative growth phase

More Incorporative weeding (Use conoweeder)

Using more organic amendments rather than chemical fertilizers alone
Advantages of SRI system
Reduced requirement of seed

Water saving

Less requirement of purchased inputs

SRI encourages rice plant to grow healthy with increased root volume, profuse tillering, restricted lodging.

Higher yields due to registration of higher yield attributes

Environmental benefits (Eco-friendly)
Problems associated with SRI
Need to replace any damaged seedlings after transplanting.
Only land that can be drained freely should be used for SRI.
Land preparation should be done carefully to ensure that seedlings are transplanted into a well leveled field.
Clay soil is less suitable for SRI, because of drying creates cracking problems.

Vigorous weed growth increases the cost of production. the last weeding should be done by hand to avoid elimination of old roots.

Uprooting the seedlings from the seedbed, without injuring roots, is difficult.

It is labour intensive
Management practices of SRI
A. Nursery Management:
Select healthy seed and follow all the necessary seed treatments

Use pre-sprouted seeds.

Prepare nursery on raised beds.

Seed rate remains 5kg/ha (50g/m2 or 5 kg/100m2)

After sowing seeds cover the surface with layer of manure.

Keep the surface well saturated with water and protect from birds.
B. Field preparation:
Land preparation is similar to traditional method.

After every 5-10 m distance (depending upon the convenience), prepare a channel to facilitate drainage.

Level the field properly so that water can be applied very evenly.

Shallow transplanting should be done in well puddled & leveled field.

Seedling is ready for transplanting at 2-3 leaf stage (14-18 days after sowing).

Take seedlings along with soil intact to root mass.

Transplant only one seedling/hill without disturbing the root mud boll at a space of 25 x 25 cm.

Use the recommended dose of fertilizer as under the traditional system.
C. Water management:
Maintain aerated soil condition.

Maintain a soil condition between field capacity to saturation (no submergence)  during vegetative stage (up to panicle initiation stage).

Maintain a thin water layer (2 cm) after panicle initiation up to one fortnight

 
D. Basis for higher yields
Phyllochron effect

Better soil environment

Photosynthesis

Root functioning

Soil nutrient availability

Birch effect

Nitrate ammonium balance

Biological nitrogen fixation

Phosphorus solubilisation
Research work on SRI
Wang et al. (2002) from Nanjing Agricultural University, China reported that increasing the seedling number per hill and nitrogen fertilization can promote the population development in SRI. They indicated that a combination of two seedlings per hill and application of 150 kg N/ha could promote population tiller number in SRI rice up to that in conventional rice. They also observed that water saving efficiency under SRI was remarkable with a 75% increase in irrigation water-to-grain ratio.
The SRI technique with 100 % of recommended NPK through chemical fertilizer produced significantly higher paddy yield over the other treatments (Singh and Chand, 2008).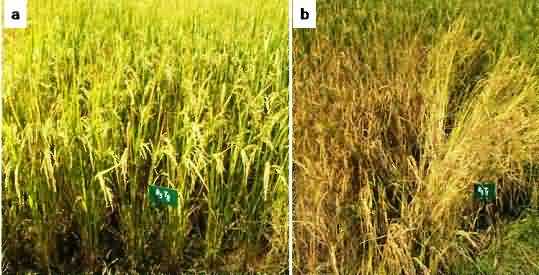 Plate (a) sowing SRI plot at experimental farm of SKUAST-Kashmir with good standing rice plants cultivar Shalimar-Rice-1 and plate (b) sowing a farmer practice trial with severe lodging responsible for yield and quality reduction compared with SRI.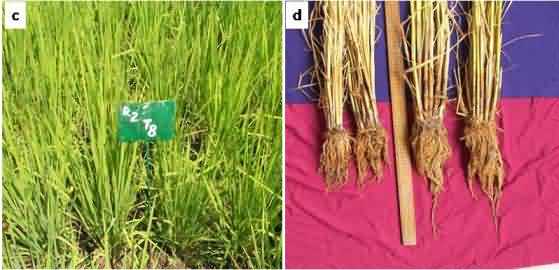 Plate (c) sowing SRI plot at experimental farm of SKUAST-Kashmir with profuse tillering of rice cultivar Shalimar-Rice-1 and plate (d) showing difference between rhizoshpere and root length of SRI and traditional rice
Future needs/work to be done
Agro meteorological aspects in SRI (Rainfall)

Nursery management

Water management

Spacings in different agroclimates/soils/for varieties

Nutrient management

Tillage practices
Conclusions
SRI. practices like single seedling, young age seedlings, using compost and aerated soil have yield advantage over traditional practices.

SRI practices have synergistic interactions and give more yield than they are practiced individually.

Up to 50% water saving can be achieved using limited irrigation practices like alternate wetting and drying , maintaining soil just below saturation etc.

Rotary weeding improve rice yields under SRI practices.

Very dense planting of paddy gives less yields compared to wider planting as practiced in SRI.

Systemic research is needed to clarify high yields obtained in on-farm trials and in farmers fields.
---
Authors:
Gurdeep Singh
Division of Agronomy, Sher-e-Kashmir University of Agricultural Sciences & Technology 
Shalimar Campus, Srinagar- 191 121
Email: This email address is being protected from spambots. You need JavaScript enabled to view it.