आयल पॉम (तेल ताड) की खेती मे मानसून की देरी या कमी केे प्रभाव को कम करने के उपाय
Oil palm is being cultivated in India in an area of 2.58 lakh hectares. It is cultivated in 1.50 lakh hectares in Andhra Pradesh under irrigated conditions. Due to Elnino effect during this year delayed monsoon conditions are prevailing. Though oil palm is being cultivated under irrigated conditions, due to prevailing weather conditions and power shortage, crop is not being provided with sufficient irrigation.
Under severe water stress conditions, two are more spear leaves will be emerged; leaves in the outer whorl will be wilted, dried and drooped subsequently. Severe stress may lead to production of more male flowers resulting in reduced Fresh Fruit Bunch (FFB) production. Sometimes bunches may abort or become dried and reduction of existing bunch weight can also be observed.
 Emergence of spear leaves               Wilting and drying of leaves
Though farmers are practicing good management practices, the prevailing unfavorable weather conditions may show impact on production and productivity in future. This crop being sensitive to water stress, needs greater attention for irrigation management. It is required to adopt techniques to overcome unfavorable conditions viz., heat waves, low RH, non retention of moisture in light soils etc.,
Techniques to be adopted in Oil palm cultivation to overcome adverse weather conditions are as follows:
Plant the Oil palm seedlings in the main field under assured irrigation/moist condition. Best would be after onset of monsoon.
Form one meter radius basin around the palm immediately after planting. Irrigation must be provided immediately after planting either through basin or micro irrigation. Micro irrigation is desirable, since 50% of water is saved.
  Basin irrigation            Drip irrigation                 Microjet irrigation
Do not store the seedlings for days together in open place after lifting to the main field. If planting is delayed without adopting management practices, it may lead to improper/reduction of growth and subsequently to low productivity.
Irrigation channels are to be prepared in such a way that the individual palms are connected separately by sub-channels. Individual palms must be irrigated twice in a week in basin system, to conserve water. Never run the irrigation channels along the palm rows.
It is advised to provide irrigation through micro irrigation under prevailing weather conditions. Each palm should be provided with 200-250 lit/daythorough micro irrigation (Drip/Jet).
Avoid excessive irrigation through basin or micro irrigation, which may lead to loss of water and nutrients.
It is advised to provide recommended water and fertilizers through micro irrigation
Soon after onset of monsoon, apply recommended dose of potash in 1st split. Due to which palm will be relieved from the stress created due to unfavorable weather conditions.
 Apply 50-100 kg of organic manure or 100 kg of green leaf manure in the palm base. Avoid ploughing in inter and intra row space, as it may cut the absorbing roots and reduce intake of water and nutrients, which may lead to less palm growth and subsequently less production/productivity.
In order to avoid water loss through weeds in the palm basin, they must be controlled by applying Glyphosate or Paraquat @ 750-1000 ml per hectare. Due to this palm will be able to take water and nutrients effectively.
In juvenile Oil Palm plantations (up to 3 years), sow Sun hemp around the palm basin in 1 or 2 rows with a radius of 3 feet from the palm basin. Cut the Sun hemp during flowering stage and incorporate in the palm basin. Due to which it will protect the palms from the heat waves, control the weeds and after decomposition add organic content to the soil.
While growing intercrops in Oil palm, care must be taken to provide recommended quantity of water and nutrients to Oil palm and intercrops separately.
Mulching in oil palm
Mulching of Oil Palm basins is essential to conserve soil moisture as well as to control weeds. Mulching can be done with dried oil palm leaves, dried male flowers of oil palm, coconut husk, empty fruit bunches of oil palm etc. Mulching can also be done with dry biomass from maize, blackgram, green gram or any other crop.
In adult plantations all the cut leaves can be heaped in between two rows of Oil Palm, which can act as mulch. Mulching in addition to conserving moisture, maintains soil temperature, adds organic matter and nutrients mainly potassium and improves physical and biological properties of soil to overcome ill effects of unfavorable weather conditions.
Mulching in oil palm basin with oil palm leaves, maize stalk and banana leaves
Ablation in oil palm
Ablation is removal of male and female inflorescences produced in the early stages of palm growth. This enables the plant to gain adequate stem girth, vigour and to develop adequate root system.
Flowering starts from 14-18 months after planting. The inflorescence (soon after appearing) can be removed easily by hand pulling or ablation tool up to 3 years.
Ablation will facilitate abundant root growth, through which irrigated water and nutrients will be effectively utilized, which helps to withstand water stress and aid in palm growth.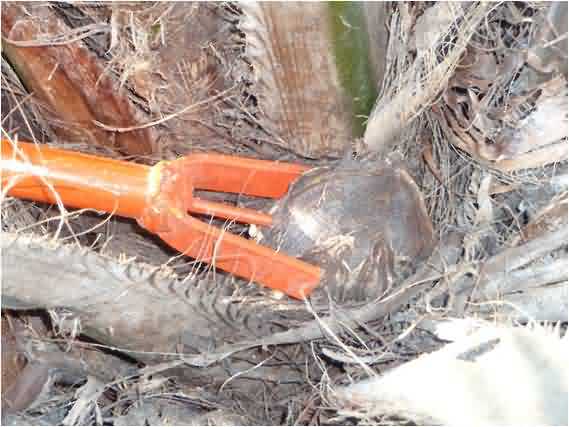 Ablation
Trenching in Oil Palm
In order to utilize slight rain fall received through pre- monsoon showers, form trenches across the slope for every 3 or 4 rows with 1 foot width and 2 feet depth, to allow rain water to recharge the surrounding palms. These trenches will also be useful to drain the excess water due to heavy rains/ floods.
Oil palm being sensitive to water stress, needs attention with respect to irrigation and nutrient management during unfavorable weather conditions. Adoption of above techniques will overcome the impact of unfavorable weather conditions, improves the plant growth, and subsequently improves the production and productivity.
---
Authors:
M. V. Prasad, K. Manorama and Sanjib Kumar Behera 
Directorate of Oil Palm Research, Pedavegi-534450,
West Godavari District, Andhra Pradesh
 Email: This email address is being protected from spambots. You need JavaScript enabled to view it.